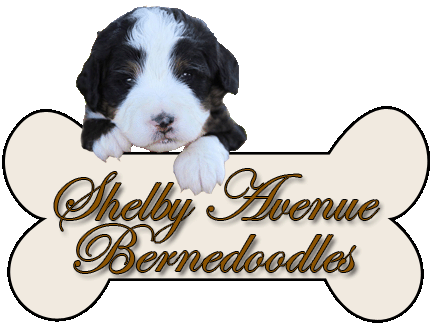 Our Bernedoodle Puppies are $3700
Deposit is $500, balance due at 5 weeks old through Paypal, unless paying cash at pick up
If using Paypal for the balance, add $100 for fees. Shipping is $450, hand delivery is $750 and up
We do not breed first generation Bernedoodles, preferring to breed further generations for size and coat consistency.
***BERNEDOODLE PUPPIES HAVE ARRIVED!
Please read this entire page before inquiring
Shelby Avenue KORRA


Korra is a large medium Berndoodle, around 45 pounds. She loves everyone and is such an easy going, sweet girl!

Rocky Mountain ERNIE


Ernie is a large mini Bernedoodle, 27 pounds. He is a happy go lucky guy, with a wonderful, laid back temperament.

Korra and Ernie have a perfect litter of Teddy Bear Bernedoodles! There are tricolor puppies as well as phantom puppies. These mini/medium "Teddy Bear" Bernedoodle puppies should mature to 30-45 pounds and all appear to have amazing coats and color! With these two dogs as parents, they cannot be anything but spectacular!

We purposefully did not pre-book this litter, so there are several openings in this puppy pile!

This litter has Classic Tri-color puppies (black with tan points and plenty of white markings) as well as phantom puppies (black with tan points, like Korra)

Puppies are ready for homes on 12/17/2018
Shipping Date for this litter is 12/18, weather permitting.

If boarding is needed through Christmas, it is $50/night starting 12/17, with very limited spaces available.
THERE WILL BE ABSOLUTELY NO PICK UPS AVAILABLE ON CHRISTMAS DAY
deposit list now open

Our multigeneration Bernedoodle puppies are $3700
(for non-breeding pet puppies)



OUR BERNEDOODLE PARENTS...
We are thrilled with these carefully selected girls that will be the foundation of our Bernedoodle program! Our girls are all HEALTH TESTED prior to breeding, which includes HIPS, elbows, cardiac and patellas, as well as dna disease clearances.

in a guardian home in St. Ansgar, IA

Shelby Avenue KORRA

A drop dead gorgeous F1 Bernedoodle out of a Bernese Mountain Dog and a Mini Poodle. I am in love with her coloring! And what a sweet girl she is! Korra loves everyone and is super smart and mellow.

Phantom, 45 pounds

Malibu shown in a short cut:

In a guardian home in Fort Dodge, Iowa

ROCKY MOUNTAIN MALIBU

Future Momma

This lovely lady is an F1 Bernedoodle, out of a Bernese Mountain Dog and a Mini Poodle. She will be a wonderful foundation for our Bernedoodle program!

Classic tri-color, 32 pounds


In a guardian home in Urbandale, IA

Shelby Avenue PANDORA
aka "Bailey"

Should be around 50 pounds

Pandora's coloring is called phantom


Lives in a guardian home in Ankeny, IA

Shelby Avenue CALAMITY
aka "Millie"

Classic Tricolor
small standard 60-65 pounds


In a guardian home in Omaha, NE

Shelby Avenue PENNY LANE

Penny Lane is out of a litter of Australian Bernedoodles that our lovely Ulysses sired for another breeder. Her mom is a Bernese Mountain Dog, her dad is an Australian Labradoodle. She is amazing, I cannot wait to have my own litter of Australian Bernedoodles in the future!
I expect she will be a hefty medium at around 45-55 pounds.

Classic Tricolor